Heel Talk wants you to see what is seen, and feel what is felt through each event, masterclass, training session, and even during social days out like you were there as well. Enjoy!
Erica Rahola
I am in love with Tasha's class! Her choreography is full out and powerful. Tasha brings the stage experience to class every time and that's what keeps me going back! You always want to leave class feeling re-energized and productive and that's what I feel taking Tasha's class! Never fails!
Phyllicia Carr
Tasha is an amazingly fierce choreographer who is dedicated to the growth and excellence of her students. What I enjoy most about Heel Talk is that it's super fun--while building confidence as a woman and dancer. Tasha teaches us about dancing with emotion to the music, but also breaks the moves down to make sure we are clean. Heel Talk is definitely a movement to empower women from various walks of life. I am a photographer, graphic designer, painter, & dancer. Heel Talk is one of my outlets.
Ajee Shorter
Heel Talk is definitely one of my favorite classes that I take weekly! It has taught me a lot about performance, lines, and how to balance out being a powerful, smooth feminine dancer. I just began dancing in heels this year but this class alone has definitely enhanced my ability to dance in them as well as my confidence. This is one of the best heels classes that I've seen/ been apart of and I would definitely recommend that all females who are trying to pursue a career in dance take Heel Talk.
Kate McMahon
I enjoy taking Tasha's heels class because she knows how to push students while still making the class fun. You can learn a lot about how to feel confident and sexy in class. The atmosphere in class is always welcoming, for any level. You will leave class sweaty and feeling like you have danced! For those who want to be professional dancers, we all know that it is important as women to be able to dance in heels. Tasha's class will push you to be comfortable in your shoes, literally!
Briana Norwood
HeelTalk isn't just a class you take, its an experience. I have been a frequent student of Tasha's for a year; & since then I have become a much cleaner, & powerful dancer. Tasha has a way to bring the inner BEAST out of you. Her class forces you to push past what you think your abilities are & gain new ones. In turn, you become more comfortable in the skin your in, a stronger freestyler, an executer of choreography, & with consistency a booked dancer. Get in Heel Talk everyone & discover you!
Vijeta Newble
My name is Vijeta. I'm a full-time mom by day and music artist by night! I love taking Tasha's heels class! It's the perfect way to transition from mommy mode to artist mode. Her class gives me the perfect setting to remind myself that being a mommy doesn't mean I have to stop being feminine, sexy, and a woman!! Plus, it's an awesome workout! I'm definitely a fan!
Candice Savage
Heel Talk for me was a great experience. Tasha is a great teacher and whether it be a beginner or adv class she pushes everyone to exceed past their limits of what they think they can't do. Not only does her class make you feel sexy, it also helps those who are trying to become professional dancers improve their skills with doing choreography in heels. I love taking Heel Talk and no matter what level of dancing you're at, you will have fun and leave feeling accomplished and sexy!!!
Teresa Wilson
As a frequent student of Tasha's Heel Talk stiletto class, I feel that I've grown tremendously in my craft. Tasha has a way of pulling out a certain type of energy that you may not have known you had. I've always had smooth movement qualities, & struggled to find the power in my movement. I can honestly say that her encouragement & excitement to see me do well as an artist alone has pushed me to find that; her choreography just takes it over the top. She's inspiring & for that I'm going harder.
Tasha wants Heel Talk to be a great experience for everyone who takes time out their day to take class. The hopes that Heel Talk will be worth taking seems to be a success thus far. Check out what these talented individuals had to say about it.
*Click pictures to enlarge*
EMERGING PERFORMANCE
Heel Talk on stage with these beautiful dancers! Thankful for their hardwork.
Preparing for EMERGING!
Tasha B had the opportunity to showcase her work of what she do in her Heel Talk classes, on stage for the Emerging Choreographer showcase in Atlanta, GA! This is a picture of one of the rehearsals with selected dancers Phyllicia Carr, Desiree Dixon, Jordan Galloway, Vanessa Small, Jessica Oglesby, and Lauren Debrick, Briana Norwood, Ajee Shorter, Kenneth Tipton, and Keith Nedd.
Heel Talk Collaboration
A private class for a birthday lady!
A collaboration class w/ Saidah!
Saidah and Tasha B came together and did a collaboration heels class, and it was a huge success. Princess Mbanuze, dancer in the middle, SLAYED the class! Thank you for sharing your talent with us!
Masterclass Collaboration
The girls made the floor sweat in this heels collaboration class to Teyana Taylor "Maybe" with Saidah Nairobi.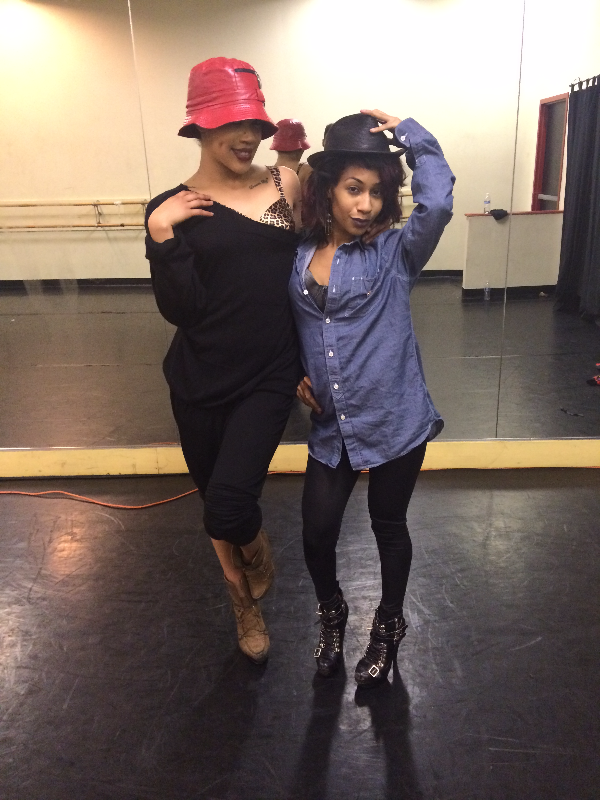 Tiffany Evans enjoys Heel Talk!
Masterclass with EducateDancer
Beautiful moments captured
Great times out, with great people. Some of these images also show one thing that Heel Talk really stand for, which is SUPPORT.
Heel Talk is big on always trying to grow everyday. There is always room for improvement, and training is vital for everyone of all levels.
These are some images of the owner, Tasha B, training with some well-known choreographers in the entertainment business and dance community. If you haven't taken from these talented individuals, Heel Talk has pumped through and recommend you to do the same!